With yet another year down, its only natural to reflect on the past. Those who have been joining us for some time may have noticed some changes during the 2019 season, not the least of which is the name of our parent company! Going forward our parent company overseeing all of our operations (including Kulik Lodge) will be known as Bristol Adventures. You may have already noticed the Bristol Adventures logo at the bottom of our website.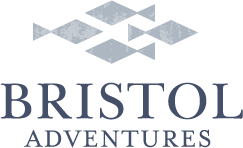 So, what happened to Katmailand, Katmai Air, and the Angler's Paradise Lodges? Not a thing! We simply wanted to create an umbrella to represent all of our historic operations formerly associated with Katmailand (Kulik Lodge, Brooks Lodge, and Grosvenor Lodge), our Katmai Air flight service, and our fly out lodge on Lake Aleknagik (Mission Lodge) all under one name. We're excited about this branding shift as we continue to expand upon our family of Alaska operations.
2019 proved to be a year of improvements within the Bristol Adventures family. For example, the addition of two pressurized Pilatus PC-12 aircraft to our Katmai Air fleet allowed our guests to access our lodges more comfortably than ever. Kulik Lodge saw the addition of three brand new guest cabins (with five more set to be completed by the 2020 season), a new king camp on the Nushagak along with an upgraded fleet of boats, and massive improvements to our runway for more dependable access into Kulik from Anchorage.
A brand new bridge (built by the NPS) across the Brooks River, has allowed for better bear viewing opportunities at Brooks than ever before as well.
A huge thanks to everyone that joined us this year. 2019 was one for the books, but we're already looking forward to 2020. We hope you are too. Happy Holidays!