Imagine there are no other fishing lodges in Alaska. Now, picture yourself flying over the heart of Katmai National Park and the greater Bristol Bay watershed looking for just the right place to start a fishing lodge, the only fishing lodge in Alaska.
What would you look for? A spot with epic fishing on-site? Of course. What about a central location with easy access to all the other incredible fisheries in the area? Definitely. As the first fly out fishing lodge in Alaska, that's exactly how the site for Kulik Lodge was chosen many years ago.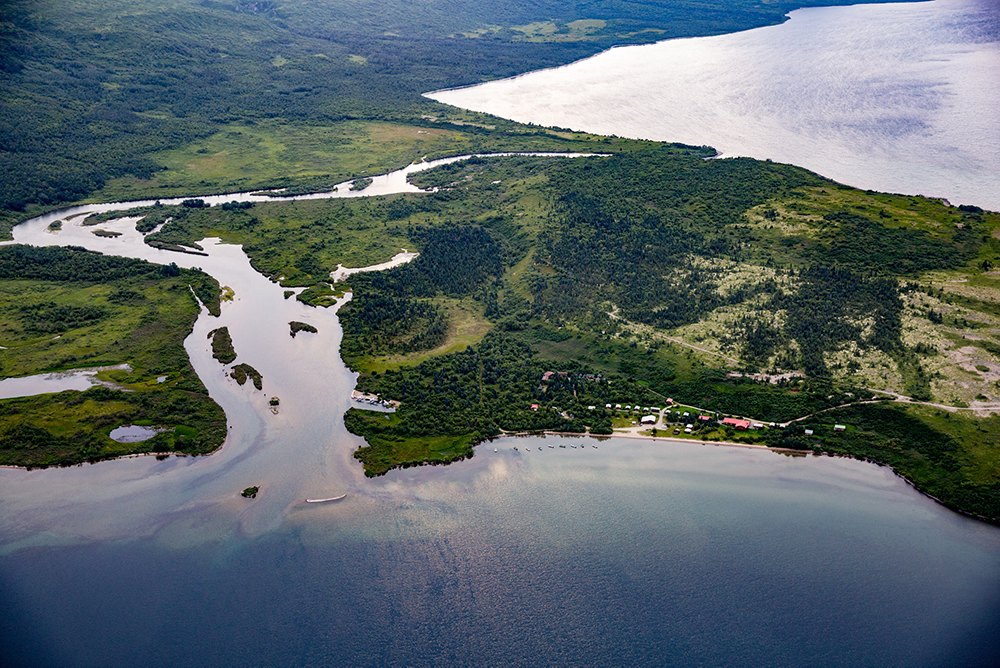 Nestled between the eastern shore of Nonvianuk Lake and the mouth of the Kulik River, Kulik lodge is centrally located between numerous legendary rivers, streams, and lakes across Bristol Bay (and beyond), the majority of which are within a short twenty minute float plane flight from our lodge.
Our fleet of float planes operated by our own Katmai Air flight service allows us to fish many of the most fabled waters of the region (along with a few close-kept secrets) within a 100 mile radius of our lodge, including the following:
Kulik River
Within walking distance of our lodge, the Kulik River is considered by many to be one of the most productive rainbow trout streams in Bristol Bay. This not only gives our guests access to world-class trout fishing with virtually no travel time or weather restrictions (no fly out needed here), it also makes for excellent home water for those looking to take advantage of the midnight sun by fishing on their own (unguided) in the evenings.
This roughly two-mile stretch of river connecting Nonvianuk and Kulik Lake receives a massive run of salmon smolt each year that provide an immense amount of forage to our resident rainbow trout population. This allows us to fish for trout using a bunch of unique methods such as tossing semi-floating streamers to "boils" made by smolt-corralling rainbows, skating mouse patterns, swinging flies with small spey/switch rods, stripping streamers, dead drifting traditional dry flies, dredging egg or flesh imitations, you name it! It's all in play at some point during our season on the Kulik.
Nonvianuk Lake and Kulik Lake
Our surrounding lakes, Nonvianuk and Kulik Lake, along with numerous feeder creeks that flow into them also provide excellent fishing opportunities for rainbows and lake trout within a jet boat ride away from our lodge.
This makes for some unique fishing experiences, rarely frequented by other operations, available to our guests at times when fly outs are not preferred.
Nushagak River
Known for supporting one of the largest king salmon runs in Alaska (receiving upwards of 100,000 fish per year), the "Nush" is our go-to for those interested in targeting the baddest fish in freshwater.
Stretching over 240 miles long from its headwaters to its entrance into Bristol Bay, the Nushagak is accessed by our guides and guests via a forty five minute float plane flight to our boats stashed on-site.
Kvichak River
Recognized as one of the world's most productive sockeye salmon systems, the Kvichak River system is a staple of our fishing program at Kulik.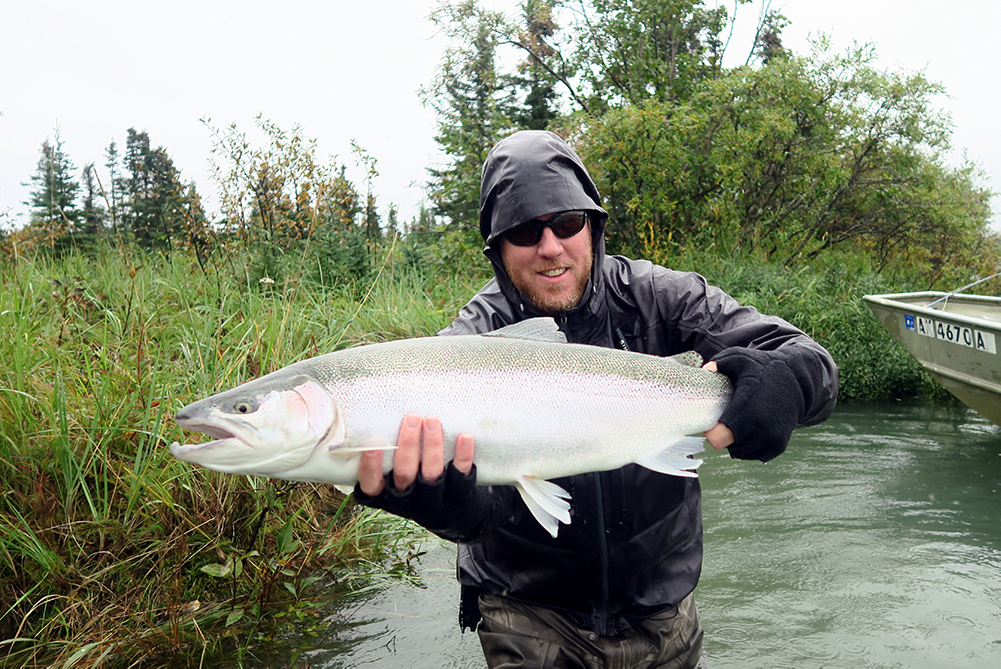 Although occasionally frequented by those interested in harvesting sockeye salmon during their trip (for obvious reasons), it is its high concentrations of trophy-sized, steelhead-like, resident rainbow trout available each fall that draw the most attention from our guests. We call them "silver bullets" for good reason at Kulik, and they make for exciting fishing for trophy trout chasers with single or double handed rods.
Alagnak River
From its headwaters of Kukaklek Lake to its confluence with the Kvichak River, the Alagnak reaps the benefits of the Kvichak's productive salmon run, supporting all five species of Pacific salmon.
The Alagnak is a salmon factory to say the least, with opportunities to catch rainbow trout and Arctic char as well.
Kamishak River
Our main destination for those interested in fishing for silver salmon, the Kamishak is also home to impressive numbers of char.
Only a short twenty minute float plane flight from our lodge, this fourteen mile coastal river from its headwaters to its entrance into Kamishak Bay is a fan favorite of guests visiting us during the back half of our season.
Brooks River
Most commonly known for its brown bear viewing opportunities at the legendary "Brooks Falls," during certain times of year the Brooks River is also known for exceptional fly fishing for rainbow trout, char, and grayling.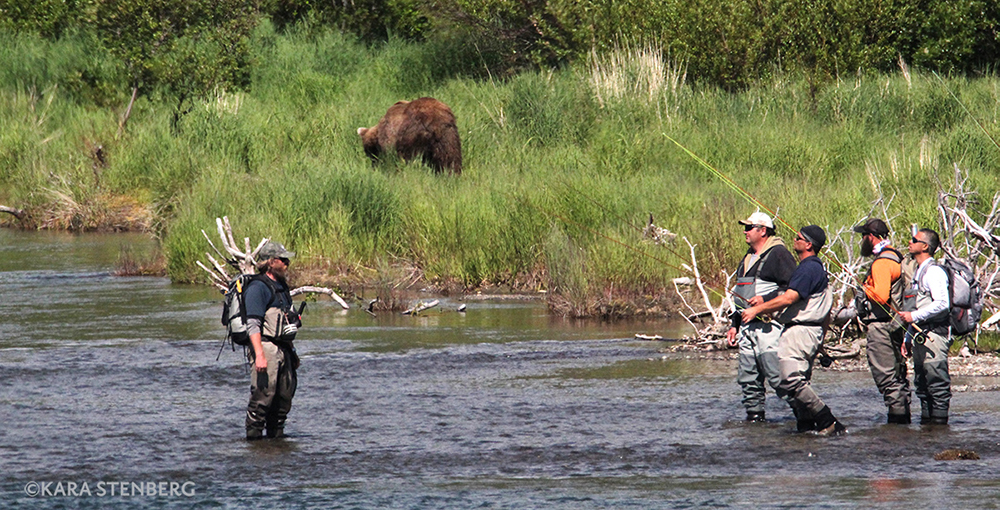 We regularly fish the Brooks River with our guests at Kulik as well as partner with our sister lodge, Brooks Lodge, for those interested in bear viewing opportunities.
American Creek
One of the most fabled creeks for rainbow trout and char in Southwest Alaska, the American has become nearly synonymous with Bristol Bay trout fishing. Two popular programs exist on the American: flying into the upper reaches for an intimate hike-in experience, along with accessing the lower six miles via jet boat.
At Kulik we incorporate both experiences into our fishing program depending on our angler's interests. Our own Katmai Air service allows us to access the headwaters via float plane and we're one of only five operations with permitted boat use on the lower.
Other Legendary Bristol Bay Creeks
Aside from the rivers and lakes mentioned above, we also fish a number of legendary creeks known for their unparalleled backcountry trout fishing opportunities such as the Moraine, Funnel Creek, Battle Creek, and the Little Ku just to name a few.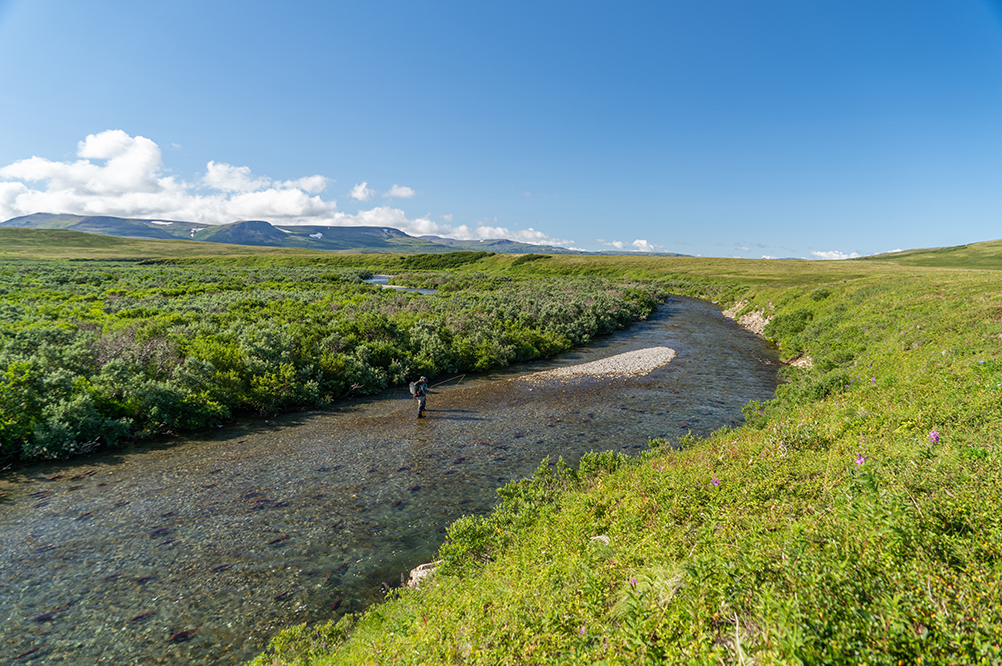 Learn more about what we fish for, or better yet, start planning your trip to Kulik Lodge today.