When choosing a fishing lodge, there are a lot of variables to consider..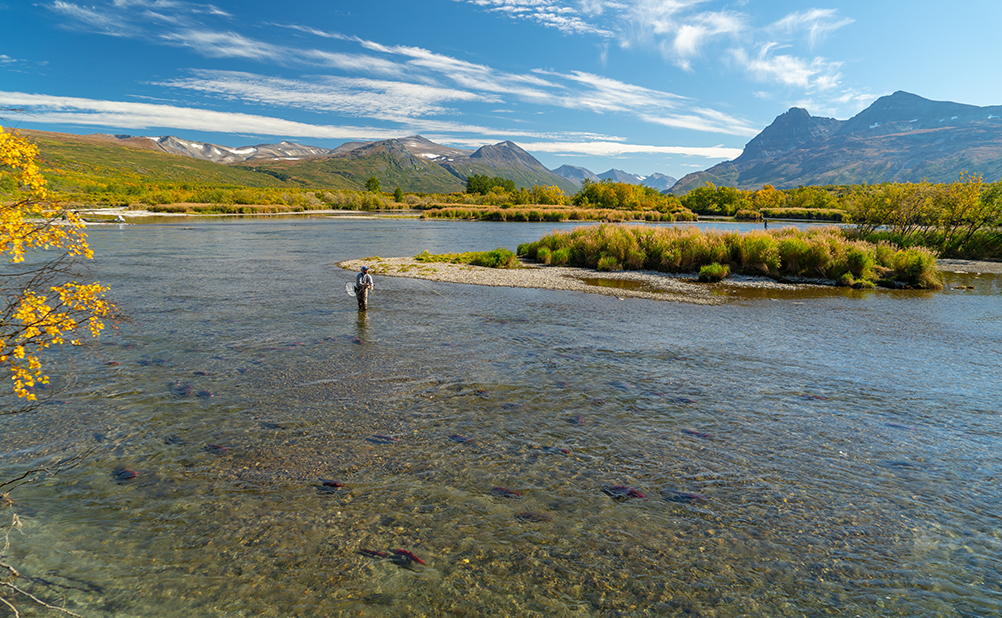 Is there a particular species you want to target, or perhaps a specific means in which you want to target them? Would you rather fish for a bunch of different fish using a bunch of different methods? How about the opportunities available to experience outside of the fishing program. Do you appreciate up-scale accommodations and amenities during your time off the water, or are you most interested in maximizing the amount of time you're on the water? All of these are great questions to consider when choosing the right fishing lodge.
One variable we think is important to consider when choosing a lodge (particularly those that utilize air travel) is home water. That is, the fishery available on-site at the lodge itself!
Why Home Water Matters
While fly out lodges afford anglers the unique opportunity to fish a variety of rivers and streams during their trip, they're often at the mercy of the weather (something we know a bit about here in Southwest Alaska). Poor weather can limit air travel, which can in turn limit fishing days, unless you have access to quality home water of course!
Quality home water is essential to a quality fishing program. Socked in by the weather for the day? No problem, boat and/or foot access to great fishing right out the front door means you never miss a day.
What Makes Quality Home Water
Not all home water is created equal. Sure, most lodges exist on some body of water (a river, a lake, etc.) that could be fished. However, we'd argue that there's more to quality home water than just something to cast into.
Ideally, a home fishery doesn't only provide access to great fishing, but is productive over the course of a season. Its not limited by run timing or migratory fish alone, but offers exciting fishing opportunities at any time.
For those interested in maximizing their fishing time at a lodge, we think great home water also includes great access for guests to fish on their own, "after hours," as well. Many lodges are located on world class fisheries, but access often requires a boat (and guide) or is only limited to a single run, gravel bar, or pool for those looking to get a little extra fishing time in during the evenings.
Our Home Water at Kulik
At Kulik Lodge, we consider ourselves extremely fortunate to be located on the banks of the Kulik River, one of the most productive rainbow trout streams in Bristol Bay. Frequented by other fly out operations in the region, our proximity to the Kulik gives our guides jet boat access to waters other operations must fly to, regardless of weather or travel restrictions.
At less than two miles long, the Kulik River is also highly accessible by foot via trails from our lodge as well. That allows our guests to take advantage of the long hours of the midnight sun during the majority of our season by fishing on their own in the evenings, something that our anglers who like to 'fish hard' really appreciate.
Easy access to world-class fishing just a walk (or boat ride) away is why we think our home water is some of the best in Alaska. Its a huge part of our fishing program at Kulik Lodge, and in no way do we take it for granted.
Want to experience it for yourself? Get in touch to start planning your trip to Kulik today.